4 cups rolled oats
1 cup of slivered almonds or walnut pieces or combination
1  cup organic, unsulphured flaked coconut
1 heaping teaspoon cinnamon

¼  cup olive oil

¼  cup honey
¼  cup maple syrup
1 teaspoon vanilla extract
½  teaspoon maple extract 
½  teaspoon lemon extract
Optional ingredients: ½ teaspoon ground flax seeds or sesame seeds.
Mix dry ingredients. Mix wet ingredients. Blend wet into dry ingredients. Spread evenly on shallow baking sheet (or two.)
Hint: If you use the same measuring cup for olive oil, maple syrup and honey, measure and add the olive oil first, then the other two ingredients will slip right out of the measuring cup without any residue.
Baked at 325 for 25-30 minutes. Time varies with oven. There is a fine line between just done and burned.  You will quickly figure out how long you have to bake in your oven.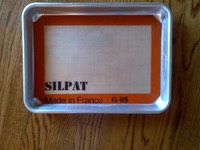 Baking hint: I recently bought aluminum cookie trays and Silpat silicone liners from Amazon. What a great investment.  Using this equipment,the granola is nicely toasted, no burning, and cleanup - well there's practically none! This bakeware, as well as the basic ingredients, can be had through Amazon (see links for most ingredients in sidebar.) 
Real (not imitation) maple extract is hard to find in local stores.  Amazon carried Olive Nation brand real maple extract. I prefer to omit if I don't have the real stuff. I buy the sliced almonds or walnuts at Costco. I break up the walnut by putting in a freezer bag, squeeze out air, and then break up by hitting with a rolling pin. I keep all dry ingredients, except for oats, in the freezer.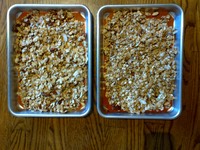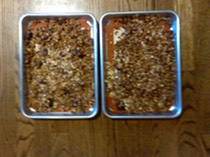 After baking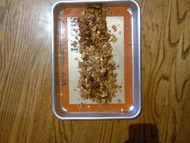 Then make the Silpat into a funnel to pour                   granola into an airtight container