The staff remembers you and greets you by your first name.  How they do that, I don't know. They remember your preferences and within 12 hours, will anticipate your needs. There is twice a day maid service, with full time butler service for the suites.  The housekeeping staff is so accomodating!
Look at the cute monkey my housekeeper, Cristina, made out of towels and washclothes and two black pieces of paper! Well it could be an owl  or something else.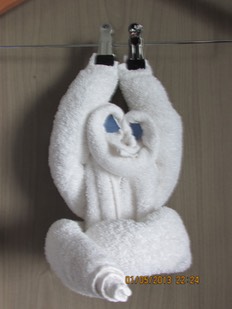 How cute is that!
Eating on Le Boreal
Breakfast buffet: assortment of cereals as well as granola, yogurt mixed with a berry mix, assortment of fruit incuding pineapple, melon, mango, assortment of cold meats, smoked salmon and an eggs cooked-to-order station. 
Lunch buffet: assorted hot entrees, salad fixings, including some special salads - potato, artichoke, Greek, etc.  Always 2 hot soups which are usually very good, as well as entrees (vegetarian and meat.)  Usually the same food as is served downstairs in a sit down dining room with traditional service. 
Dinner buffet: 3 entrees, usually includes a vegetarian entree.  Salad fixings,  2 hot soups, special vegetabe salads, sometimes grilled vegetables.  Always a rib steak cooked the way you like it. 
Desserts are abundant at lunch and dinner and usually pretty good with ice cream  and or sorbet always a choice.  Always a good assortment of cheese (which I cannot evaluate for quality because I'm not much of a cheese eater.)
Many people prefer the buffet because you can eat and run if you feel like it and you can pick and choose what you want and how much. There are often the same items available as in the sit down dinner - maybe one less entree choice at the buffet. Always a rib steak cooked the way you like it.
I haven't had breakfast or lunch in the main dining room.  Dinner in the main dining room is excellent.  Fish is always better in the main dining room.  One night, we had a sit down dinner in the main dining room.  Beautiful service, excellent food: scallops crusted in pistachio appetizer, filet entree - perfect medium rare (Jane got hers blue rare, which she requested.) Chocolate mouse cake for dessert.  Perfect. An another night in the main dining room I had carp perfectly cooked.  Obviously they took past criticism to heart and made the food and service not only right, but exceptional in every way!
Meal hours:
Breakfast: 8:30-10 during "at sea" days, earlier on days when you leave the ship.  Lunch is from 12:30-2:00, Dinner from 7:30-9:00
Wait staff
They are all wonderful, but these are some of my favorites!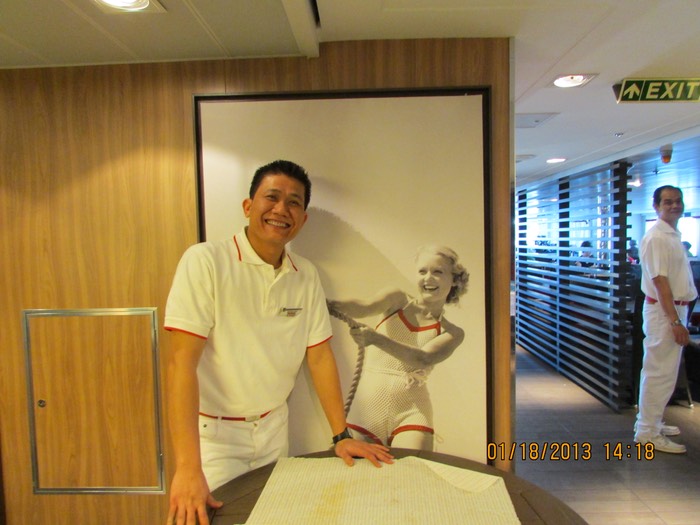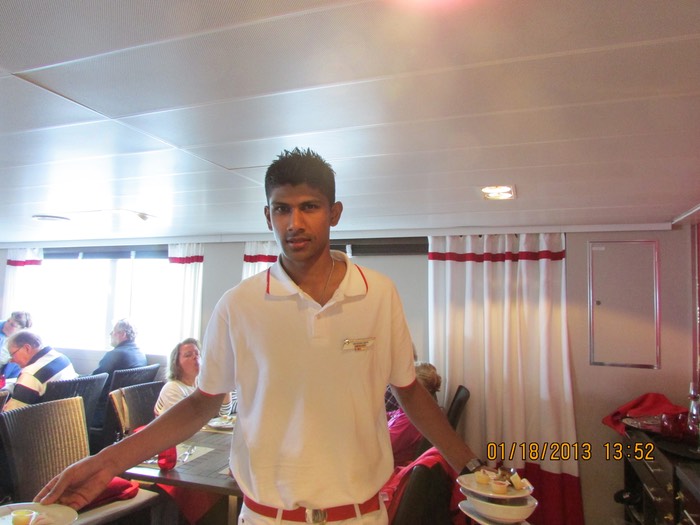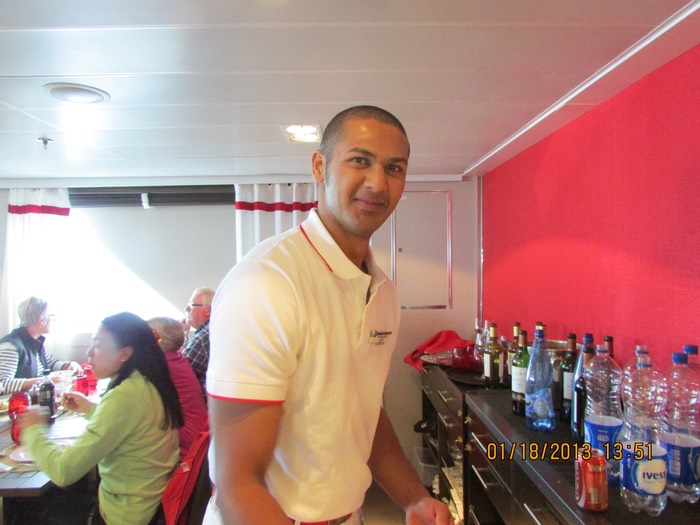 The days are full with lectures morning and afternoon when you are not on excursions on shore.  You can watch the presentation through closed circuit television in our room, if you don't feel like going to the theater. 
The photo person is wonderful and adjusted my camera to take perfect pictures.
Here are some more details which future travelers on this trip might appreciate.  The TVs are typical HDTV's with the usual ports on the back.  One USB1, one USB2, 3 HDMI ports.  There's also a PC video in 15 pin receptacle. 
There are two 110 outlets, one in the bathroom which is just for shavers or electric toothbrushes.  There's one in the vanity area.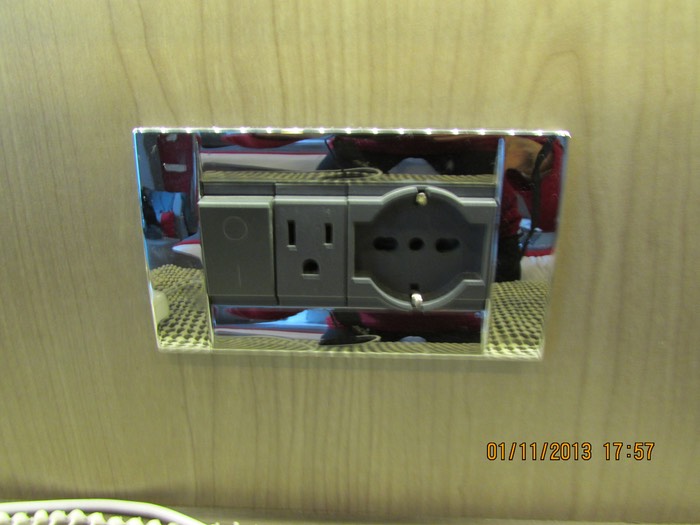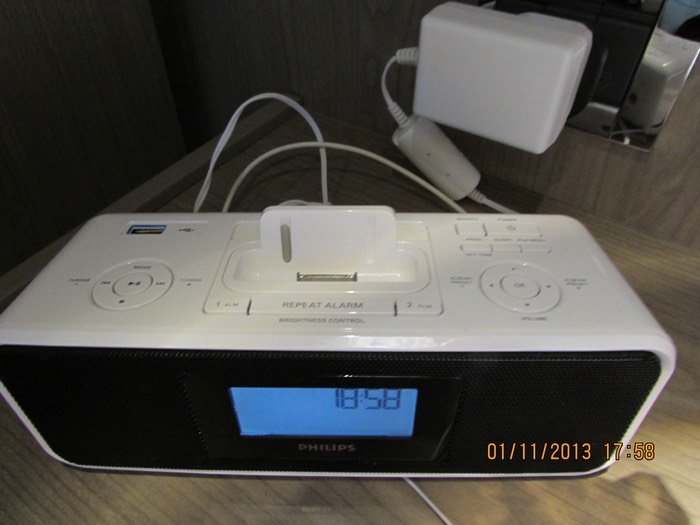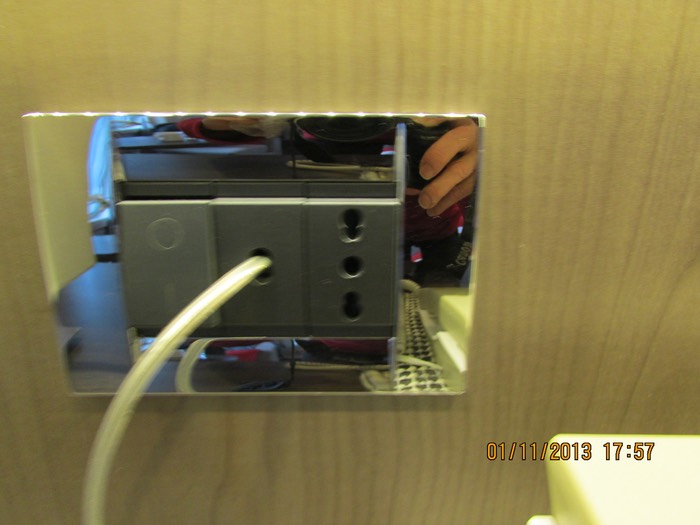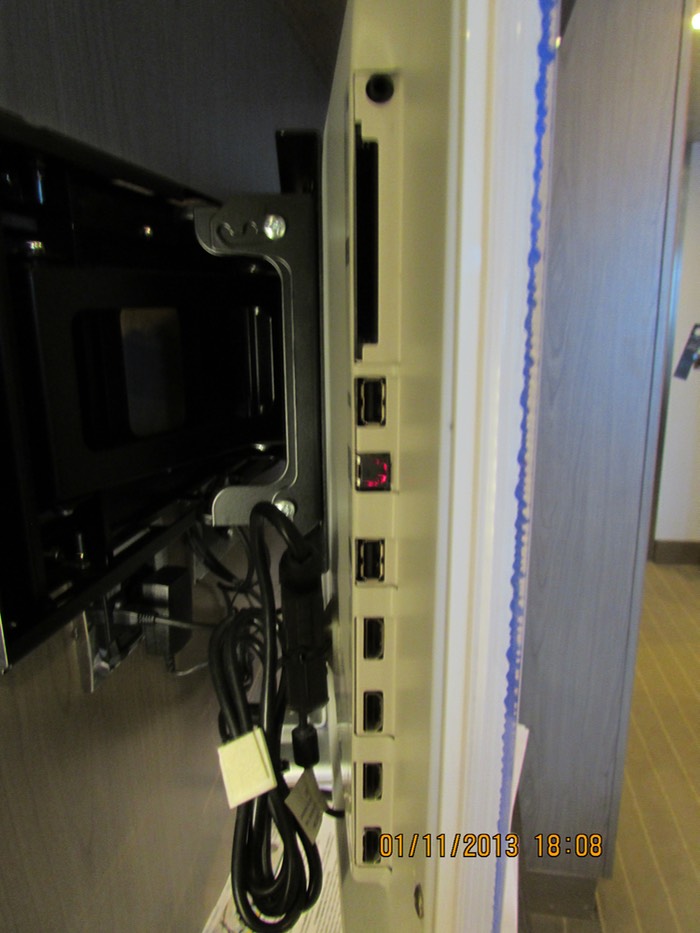 There is a mini fridge in the room filled with beverages which are complimentary on this trip. They will keep any type of beverage in there. You also can have carbonated and non-carbonated water that is replenished daily.  There's also a fruit plate in your room that is replenished as needed.  You will not starve on this trip. And there are always a couple of little treats left on your bed with turn down service.
See yesterday's posting for information about the gym.