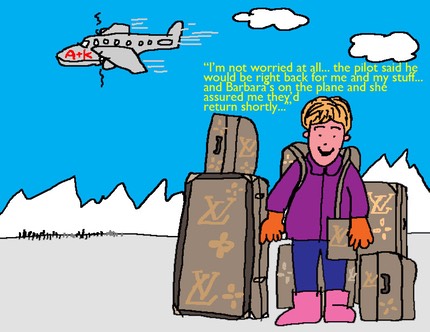 Drawing by Alan Zwiebel
I'm all packed.  I managed to keep my large duffel under 35 lbs.  
So many people have said to me, when I tell them about my upcoming trip, "That's always been on my bucket list."  The funny thing is, this would NEVER have been on my bucket list, if I had one.  (I don't.)  It was a totally impulsive decision because Mark had gone last year and had such a good time.  I was in New York and said, "I want to go, too."  Jane said the same. Jim won't get on a plane - so that ruled him out. Alan didn't want to go, so Jane and I decided to go together.   That was last winter, and here we are - our turn is soon!