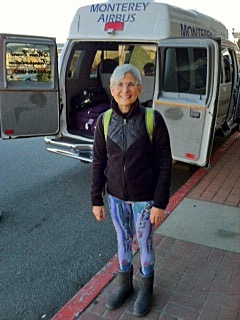 I'm wearing my new Uggs.  Erin convinced me to buy these and now I don't want to take them off.  They will certainly keep my feet toasty. 
We're traveling with Abercrombie and Kent and I'm including details about things like luggage requirements and will also cover cabin attributes that future participants might like to know.  Some of this was hard to glean from   A & K's communications.
For the Santiago/Ushuaia/Santiago charter flights,  checked baggage allowance per passenger is limited to a maximum of 22 kilograms (48.4 lbs.), plus one carry-on item weighing a maximum of 8 kilograms (17.6 lbs.) with measurements not exceeding 55 centimeters (21.65 in.) of height, 35 centimeters (13.78 in.) of width and 25 centimeters (9.84 in.) of depth.  Checked baggage should not exceed more than 2 pieces per person.