Ingredients:
½ cup apricot preserves
½ cup cider vinegar
½ cup firmly packed dark brown sugar
¾ teaspoon curry powder
½ teaspoon ground ginger
Cheesecloth bag containing 3 inch cinnamon stick and 6 whole cloves
1 lime blanched in water for 2 minutes, seeded and chopped
1 firm pear, peeled, and diced
1 apple, peeled, and diced
3 cups cranberries (thawed if frozen) picked over
½ cup raisins
½ cup chopped walnuts (crushed into small pieces – or you can buy them chopped.)

Hint: I put in the cinnamon stick by itself and take it out after the cooking is done.  I put the 6 cloves in a spring loaded loose tea container to keep them from getting lost.  I never remember to get the cheesecloth.)

In a large stainless steel or enameled saucepan, combine the preserves, the vinegar, the sugar, the curry powder, the ginger, the cheesecloth bag, and 1 ½ cups water and bring the liquid to a boil, stirring until the sugar is dissolved.  Add the lime, the pear, and the apple and simmer the mixture for 10 minutes.  Add the cranberries and the raisins and simmer the mixture, stirring occasionally, for 20 to 25 minutes, or until thick (that really takes much more than 25 minutes – usually 45 minutes or a bit more.)

Remove the pan from the heat, stir in the walnuts (I crush them to make them small bits.  You can put them in a bag or towel and use a rolling pin to smash them.) Discard the cheesecloth or the cinnamon stick and cloves in whatever you put them.  Transfer to a a ceramic or glass bowl and chill it, covered, overnight to let the flavors blend.  I also fish out the lime rinds.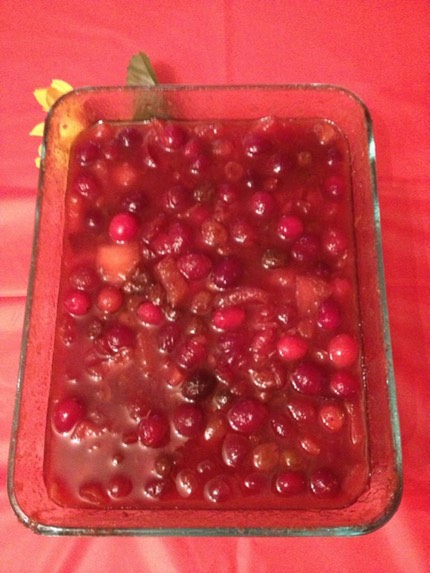 This is a photo without the walnuts.  So yummy, I ended up making another batch after Thanksgiving just to have as a nightly desert.